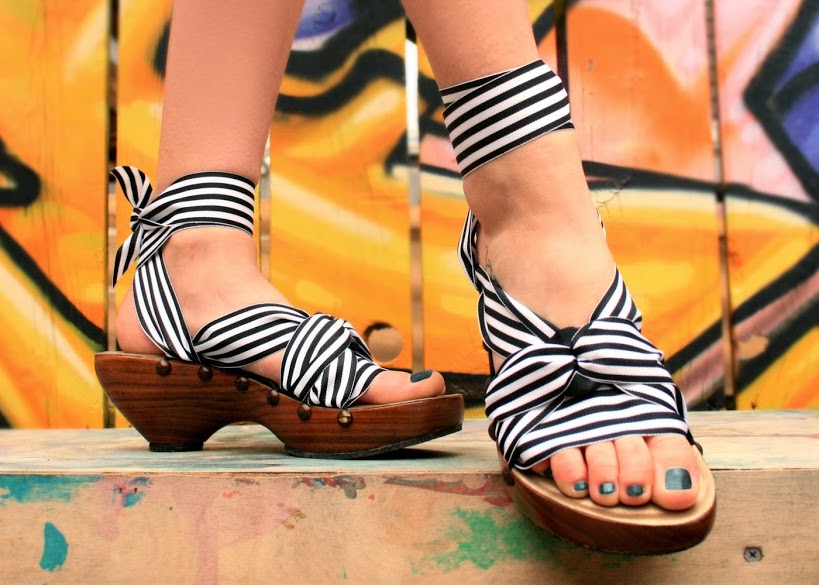 The more I learn about Annie Mohaupt and Mohop "infinitely interchangeable shoes", the more enthusiastic I am about sharing this story.
[youtube]http://youtu.be/5tQk9CyCfYo[/youtube] 
Annie Mohaupt is a Chicago-based shoemaker who is changing the face of domestic manufacturing with Mohop, an innovative shoe brand with an 8-year-old history. MOHOP was created by Annie and is managed by a team of passionate women who want to make fun, interchangeable, easy-to-wear shoes that are good for our economy and our planet.
Annie is an incredibly innovative artisan who has enlisted robots and lasers to help her craft her shoes!
[youtube]http://youtu.be/sqh8fARAbKM[/youtube]
There is just one problem: the demand for a pair of Mohop's has exponentially risen in the past year! (Nice problem to have, right?!) The cobbling genius behind this recent shoe epidemic has only two hands to craft and customize every pair. For this reason, she and her team have launched a Kickstarter campaign to fund a new Mohop factory in Las Vegas.
Here are a few facts that make Annie's story worth knowing:
The Mohop team is entirely comprised of women.

Mohop is

revitalizing U.S.-based manufacturing.
Mohop shoes are vegan, sustainably produced by an unusual collaboration between artisans and robots.
Mohop shoes are custom-made and fun to wear. (The fun to wear comment is from a friend who has worn them all over on her vacation in Europe!)
Mohop Kickstarter campaign provides Backers with multiple benefits: Giving a unique holiday gift that is valuable as a consumer product; supporting an established, woman-owned business; and helping to grow manufacturing in the USA!
Learn more about Annie and Mohop here at the Kickstarter campaign page, which includes videos.
The goal of this blog post is to increase momentum for Annie'e Kickstarter campaign. If Annie's story sparks your interest, please help our team spread the word by sharing this blog post or the Kickstarter page at this link!
If you would like to cover this story in your blog or newsletter, please reach out to the MOHOP Operations Team at shoes@mohop.com.
Established in 2005 by architect Annie Mohaupt, Mohop is an eco-friendly footwear company specializing in interchangeable shoes that allow nearly infinite design options with just one pair of soles. One-of-a-kind, custom-fit sandals can easily be created by simply lacing any ribbon or fabric tie in Mohop's patented sole.

A socially-conscious company, Mohop ensures that all of our collections are produced with sustainably-sourced, recycled, and/or fair-trade materials.  Mohop has three collections: our flexible-sole MOPED collection, our Japanese-inspired MOKOBO collection, and our high-end BESPOKE collection. Each collection is produced by Annie and her team of talented artisans in our Chicago workshop. Mohop shoes are available online and at retailers in the US, Canada, Europe, and Asia, and have been featured on a huge variety of national and international media including Vogue.com, Chicago Tribune, Lucky Magazine, The Martha Stewart Show, US Weekly, MTV, Vh1 and ARTE.