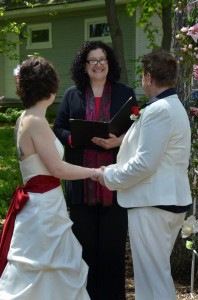 * Officiant/Celebrant * Counselor *
* Ordained minister * Level II Reiki Attuned*
Born into a Catholic family, I was raised by my non-practicing Catholic mother with an atheist stepfather of Jewish decent. I explored and studied religion with an emphasis on Judaism and earth-centered faiths during young adulthood.
In October 1989, I signed the membership book at the Unitarian Universalist (UU) church in Oak Park, Illinois. Six months later, I moved to Central Illinois and became friends with another UU-Jew who was serving as a local minister.  Dean Michael Kucera (now Rev. Dr. D.M. Kucera), then a Doctor of Ministry candidate at Meadville Lombard, the UU Theological Seminary in Chicago, hired me to edit his doctoral dissertation.
During this nine-month project, I decided I would like to become a minister later in life and would engage in related, supportive activities and education over the next two or three decades. Meanwhile, I have participated at various UU churches in the Midwest, including Unity Temple, and the UU congregation in Bloomington-Normal, IL where I am currently an official member but attend only occasionally, in favor of geographically closer congregations.
During a winter 2010 cross-country road trip while on sabbatical from medical school, I visited with a friend in California who was an ordained minister and an officiant at weddings. With that visit, I felt strongly it was time for me to become an ordained minister, especially in order to be a celebrant in the ceremonies of same-sex couples in Illinois, were civil union was not yet legal. I had petitioned for marriage equality for decades and felt this was another way I could contribute to the cause.
In the Fall of 2010, I applied for admission at a Baptist Seminary to gain the perspective of that faith as well as the faculty who held a different belief. The administration rejected my application for reasons not officially stated but unofficially leaked: I was a heretic and too liberal to fit into their system.
I do not take my role as a minister and ministerial counselor lightly. While in medical school, I particularly enjoyed a counseling class and recognized the value of such training. I pursued a stronger background in psychology in order to be better equipped to responsibly counsel couples, and especially to have more knowledge on when to refer to a professional therapist or medical doctor, which I have had to do. On the flipside, I do not take myself too seriously in this role. I do not request or encourage the title "Reverend" as I feel the role is one of service, and the position should not be used for the purpose of seeking reverence from others.
I honor and affirm the First Amendment to the United States Constitution, generally known as the separation of church and state. I have personal friends who are Pagan, Agnostic, Muslim, Jewish, Hindu, Atheist, and Christian of several denominations. I believe it is imperative that we, as individuals and small groups, focus on our commonalities and mutual goals rather than emphasizing our differences.
At this time, I accept invitations to officiate or celebrate life events only via a mutual acquaintance.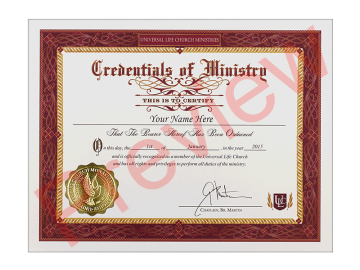 * This content was originally posted on April 14, 2012 and was edited on January 30, 2013 and July 10, 2015 by LMB.